Supporting Second Victims in Patient Safety Incidents: Have We Done Enough?
Scientific Programme – Symposium 4
Date: 21 May 2023, Sunday (GMT+8) | 21 May 2023, Sunday (UTC-4) | 21 May 2023, Sunday (UTC-5)
Time: 1410 – 1435 (GMT+8) | 0110 – 0135 (UTC-4) | 0010 – 0035 (UTC-5)
Speaker: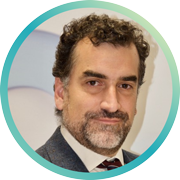 Daniel Arnal-Velasco MD
Abstract:
The concept of the second victim refers to healthcare providers who experience emotional distress following an adverse event, such as a medical error or patient harm. This emotional trauma can lead to decreased job satisfaction, burnout, and even leave the healthcare provider questioning their abilities and competence. Addressing the second victim phenomenon is essential to improve organizational safety culture, as emotional distress and fear can exacerbate an opaque culture of shame and punishment. By implementing a just culture, where healthcare providers are encouraged to report errors and near-misses without fear of retribution, organizations can support the emotional needs of their staff, improve patient safety, and foster a culture of continuous improvement.
More About Scientific Programme